While consumer brands relate to products and services, corporate brands relate to companies. A corporate identity or corporate image is the manner in which a corporation, firm or business enterprise presents itself to the public (such as customers and investors as well as employees) . Olins (1989) suggests three kinds of corporate identity: monolithic, endorsed and branded. Other authors sometimes refer to these as brands or branding (Ind 1997; Keller 1998).Good examples of this are global corporations like Unilever and Procter & Gamble, who have numerous consumer brands under their umbrella. Corporate image encompasses everything about a company that's visible (visual communication, product advertising etc.) and also strongly influences corporate identity, in which it plays an important part. A company speaks and communicates through its image and does so predominantly using graphic design.
CORPORATE IDENTITY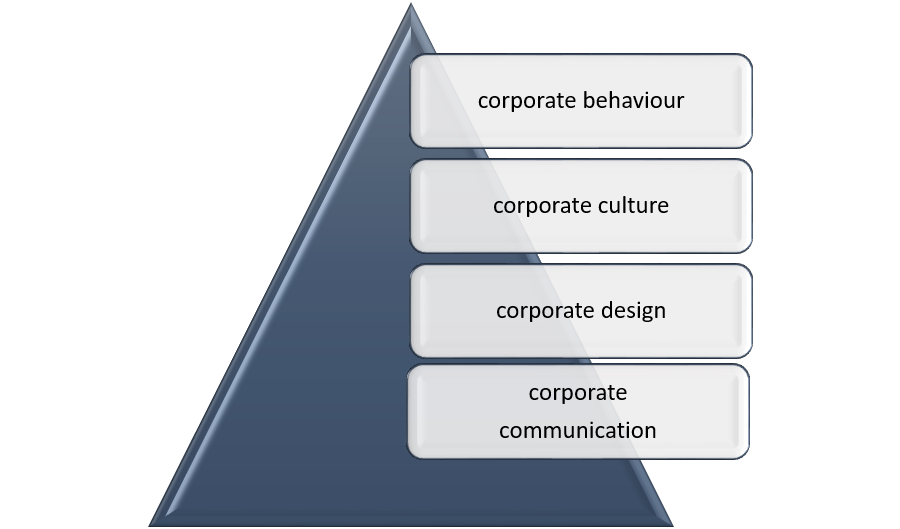 CORPORATE IMAGE
Corporate branding facilitate customers transmit to a business and identify a wide range of product offers over time. Valuable branding diminish the need for large marketing initiates for every new product as the consumer has a predetermined understanding of the product's quality, reliability and purpose.
Apple is one of the leading branding companies in the world. Marketing experts like Marc Gobe argue that Apple's brand is the key to the company's success. "People talk about technology, but Apple was a marketing company," Sculley told the Guardian newspaper in 1997.
What comes to our mind when we see the Apple logo?
We almost certainly bring to mind everything connected with the Apple brand: premium pricing, expensive phones, fast computers, innovation, consistency, It's just a simple logo with no letters explaining everything about the brand. How did Apple Inc. build such a well-built impression in the minds of millions of people around the globe? One thing we can say for sure is consistency. The secret is to observe strict adherence to the philosophy.
When we consider why branding is much compulsory for corporates its because:
Branding helps you stand out in a saturated market, It gives you credibility, With a clear brand, you can charge what you're worth, Branding leads to customer loyalty, Branding leads to returning customers & referrals, Branding = Consistency, Branding helps to attract your ideal clients, Branding your business will save you money and time in the long run, Branding will give you confidence in your business., Established branding will make it easier to introduce new products or services. Branding gives you a clear strategy for moving forward.
It's so important to get the' ideas written down — these tangible insights will shape their future branding, marketing, and customer communications.
One of the best ways to do this – A branding questionnaire.
A questionnaire on branding will help us to create the perfect brand . One could just create a brand identity. Also, a brand questionnaire will help you understand your client's needs so much better. That's the main reason why we believe this is so important
A branding questionnaire consists of a set of survey questions that helps businesses achieve their goals with basic marketing and branding strategies. This questionnaire will start to inform your preferred choices to the agency or organization who is working on your brand identity. The corporates have to do research every 6 months once or a year at least to get to know about the status and take proper action if there is any diverse in the growth of the company. One can easily find out the answers
To Discover the purpose behind your brand.
To find the Research competitor brands within your industry.
To Determine your brand's target audience.
To Establish brand mission and vision statements.
To Outline the key qualities & benefits your brand offers.
To Form your unique brand voice.
How to build a powerful corporate brand?
How can you turn your business into a brand? For that, you need to develop a corporate branding campaign. If you want to give your business a life, you have to develop a brand. But, first, you need to define a few fundamental concepts, which are:
What is your brand all about?
What are your services and products?
What purpose do your products and services serve?
Who is your targeted audience?
Why should they prefer your brand?
What promise and values do you offer?
After answering these questions carefully one can move forward and do some assignments which includes:
Identify what is wrong with your business
Understand and unify your employees under a company policy
Build a strong brand message
Make your business visible, get a good website
Design a logo that represents your business
Make your business visible, so get a good website
Devise a data-driven marketing strategy
This complete corporate branding approach will help you generate an image and spot for your products and/or services in a aggressive market. You can forever add extra values to your brand in order to reinforce the relationship with your customers. It's highly recommended to get professional assistance at every step. For example, consulting a company which offers corporate branding services will help you design an ideal logo. Make sure consulting a richly experienced corporate branding service. Start thinking about building your brand and let your business grow beyond limits.
Approaching to the brand identity of the corporate the research says that there are five components which create the look, feel and tone of the company to the outside world. The components are Visual Brand Identity, Brand Voice, Brand Values, Brand Personality and Brand Message
To get these five components right, the management have to analyze the below questions.
Who is your ideal customer?
What pain points do you solve?
What kind of personality do you have?
What is your competition?
How do you make your clients feel?
How are you different?
What is your story
Why do your clients trust you?
What are the 5 words that describe you?
What is wrong with your existing brand diet?
What brands do u admire?
How can you simplify your brand identity?
Measures for corporate identity
CA associations Products & Services
Do you think that [company] develops innovative products and services?
Do you think that [company] offers high-quality products?
Workplace environment
Do you think [company] is well-managed?
Do you think that [company] employs talented people in comparison with competitors?
CSR associations
Do you think that [company] supports good causes?
Do you think that [company] maintains high standards in the way it treats people?
Ad credibility
How would you describe the information given in the ad?
Unreliable – Reliable
Unconvincing – Convincing
Unbelievable – Believable
Ad factualness
How would you describe the information given in the ad?
Factual – Impressionistic
Factual: everyone can agree on the meaning of the information in the ad
Impressionistic: the meaning of the information in the ad is subject to interpretation
Corporate Culture
Company culture must be supported and endorsed from the top down in order to gain traction. To be authentic, everyone needs to buy-in, including management. To protect the company culture, establish educational procedures and training programs for new hires that help them understand how to adopt and embrace your culture. Cultural interviews can also help filter people for a cultural fit before they are hired.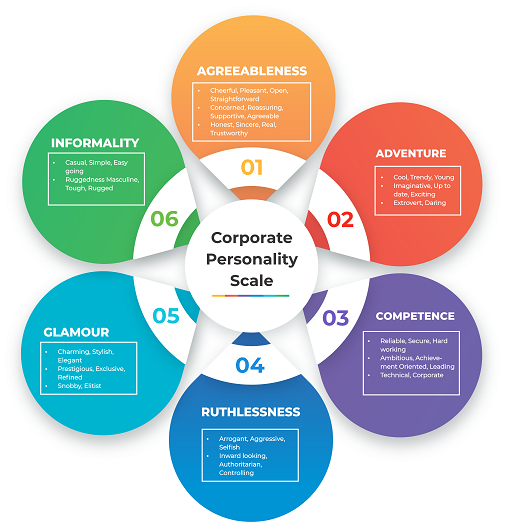 A concept that is related to corporate personality, is that of corporate culture. Corporate culture can be defined as "a set of values, beliefs, and norms shared by members of an organization" (Kowalczyk & Pawlish 2002, p. 162).
Like personality, it refers to a construct that is used to explain behavior. People 'outside' an organization may also form an impression of the company's culture, and may use this impression to categorize their associations with the company. Down below you can see the Davies et al.'s (2001) corporate personality scale.
When we look at the things which is included in corporate identity it is all the visual elements that are chosen to represent the overall face of your organization – from corporate logos to typeface, tagline, imagery, color palette, and tone of voice. It's apparent in physical form too, in stationery, packaging, uniforms, merchandise, brochures or online campaigns.
Building a positive corporate brand image can bring in consistent sales and make product roll-outs more successful. A corporate brand identity with trust, purpose, and consistency attracts people who buy-in to what your brand believes in and why you exist. But once these people become customers, that same brand identity gives them a sense of belonging. A good product generates customers, but a good brand earns ambassadors and grows tribes.
Dr.Shanmugapriya is a Professor of Brand with specialization on nation's branding
The post Corporate Branding –Know How appeared first on Top 50 Brands Nigeria:.